With the AL's rundown in the books, it's time to move on to the less conforming league. The NL has not suffered from their lineup slight, considering the past three World Series champions have reigned from the DH-less league.
Pitching is often considered more prominent with the top clubs in the NL, and this year has brought minimal contrast to that long-standing belief. The top four ranking MLB teams in ERA all come from the NL, and seven of the top ten do too. As we well know, strong pitching serves clubs well in the post-season – and a few of the top teams here look well-positioned to make a deep run in October. The All-Star game in July has been a critical fixture for the NL as they have won home field advantage three years in a row, and forced the AL to put their pitchers at the plate for the majority of World Series games. Don't overlook the results of that "exhibition game" this year.
Let's now unveil the curtain on the standouts from the first half in the NL.
2013 NL First Half "Diamond Club"
Team emblem: St. Louis Cardinals
- The Cardinals are the gold standard when it comes to American sports franchises. The best team in baseball (+106 run differential) also is just beginning to harvest the best farm system in the MLB. The departure of Albert Pujols may have been a blow to fan morale, but it certainly wasn't going to impact St. Louis' grip on the NL Central.
Team Manager: Clint Hurdle, Pittsburgh Pirates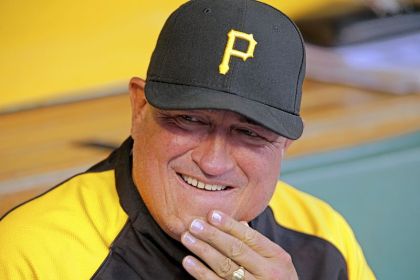 - No one wants to be THAT guy who puts the Pirates down on paper to make the playoffs – but it's hard to argue against anything else after their first half performance. An overachieving pitching staff has paired with a young offense that has plenty of flair for late game heroics.
Lineup:
1. Matt Carpenter, 2B – St. Louis Cardinals (.322 BA, .403 OBP, .875 OPS, 6 HR, 27 RBI)
- Carpenter has performed about as well as a leadoff man in the NL can. The lack of stolen bases is more than made up for with his uncanny ability to get on base this season.
2. Carlos Gonzalez, LF – Colorado Rockies (.300 BA, .371 OBP, .992 OPS, 21 HR, 57 RBI, 13 SB, 61 R)
- He has taken full advantage of the thin air in Denver, and is the surprise NL leader in HRs. However, he hits even BETTER away from Coors Field – essentially dispelling any theory that he is a product of his environment.
3. David Wright, 3B – New York Mets (.309 BA, .390 OBP, .923 OPS, 12 HR, 41 RBI)
- It would be a crime against humanity if Wright isn't in the three hole come July 16th. The home fans at Citi Field deserve to see this hitting machine represent their otherwise downtrodden franchise. Here's hoping David stays in New York long enough to see the rejuvenation of the Mets that is currently being led by their young pitching staff.
4. Paul Goldschmidt, 1B – Arizona Diamondbacks (.306 BA, .384 OBP, .956 OPS, 19 HR, 65 RBI)
- Debate will rage on all the way up until the All-Star Game as to who should start at 1B for the NL squad. It's difficult to pick against Joey Votto and his quiet consistency – but Goldschmidt is having a career year for a first place ball club. He is only one long ball away from already matching his total of 20 HRs last season.
5. Troy Tulowitzki, SS – Colorado Rockies (.347 BA, .413 OBP, .635 SLG, 1.048 OPS, 16 HR, 51 RBI)
- It seems unlikely that Tulo will get to play in the All-Star Game, but his astounding first half deserves recognition anyway. His fifth DL stint in six years has led many to label him as injury prone, and it's probably equally maddening to the Rockies' franchise player he can't be out there every day.
6. Yadier Molina, C – St. Louis Cardinals (.353 BA, .397 OBP, .899 OPS, 5 HR, 41 RBI)
- The quintessential Molina in a band of brothers that man the backstop, he is on pace for his best season yet. Besides controlling an elite Cardinals pitching staff, Yadier has raised his batting average each year since a mediocre 2010.
7. Carlos Gomez, CF – Milwaukee Brewers (.313 BA, .355 OBP, .925 OPS, 12 HR, 37 RBI)
- Known more for his stellar defense in the outfield, Gomez is enjoying a breakthrough at the plate in 2013. There seems to be nowhere to go but up for the 27 year old who has finally settled down with the Brewers franchise after being traded twice early in his career.
8. Gerardo Parra, RF – Arizona Diamondbacks (.315 BA, .378 OBP, .858 OPS, 7 HR, 26 RBI)
- Parra has been a wonderful surprise in a now crowded D-Backs outfield, but he should lose no playing time in the second half if he keeps playing like he did in the first half. Could be a little more choosy on the base paths; he has 9 CS with only 6 SB to show for it.
Pitching Staff:
SP: Matt Harvey, RHP – New York Mets (7-1, 2.05 ERA, 0.88 WHIP, 9.9 K/9, 2.00 FIP)
- Hitters are finding Harvey's fastball almost impossible to hit when they find themselves behind in the count. Paired with a nasty slider and a workhorse mentality similar to Justin Verlander's, the Mets just may have themselves the best RHP in baseball.
SP: Clayton Kershaw, LHP – Los Angeles Dodgers (5-5, 2.06 ERA, 0.99 WHIP, 8.81 K/9, 2.62 FIP)
- Kershaw is set to sign what surely will be the largest contract for a LHP ever, but I'd be willing to bet he'd take a paycut if his Dodgers could actually hit.
SP: Adam Wainwright, RHP – St. Louis Cardinals (10-5, 2.31 ERA, 1.01 WHIP, 8.18 K/9, 2.01 FIP)
- Every time I watch Wainwright pitch I walk away more and more impressed with his ability to command his pitches, and the nasty amount of movement that accompanies them. He has been pitching in big games since he came up from the minors, and there's few guys I'd rather have on the mound for a Game 7.
RP: Craig Kimbrel, RHP – Atlanta Braves (21 SV, 1.59 ERA, 0.95 WHIP, 13.02 K/9, 2.48 FIP)
- Kimbrel has seen his K/9 numbers drop from "godly" to "superhuman" this year – obviously a good problem to have. His FIP suggests that the Braves defense may be helping him out a bit, but I don't think hitters would tell you his slider has become any easier to hit.
RP: Jason Grilli, RHP – Pittsburgh Pirates (26 SV, 1.82 ERA, 0.87 WHIP, 15.06 K/9, 0.77 FIP)
- This is an especially maddening – and obvious – choice for me. To see Grilli hold down the back of the Pirates bullpen after being released in Detroit has become a sort of running gag as us Tigers fans watch our own closer situation continue to linger.
Cy Young Award: Matt Harvey, RHP – New York Mets
- It's unfortunate we likely won't get to see Harvey pitch past September. However, you can't detract his team's performance from his own. He has been the best starting pitcher in the NL thus far, and should be recognized as so.
MVP Award: Carlos Gonzalez, LF – Colorado Rockies
- This is easily the most wide open race in the NL. Were he not currently in the middle of a DL stint, it would have been just as easy to give it to CarGo's teammate, Troy Tulowitzki. This one will be a fun one to speculate over for the rest of the season.
Rookie of the First Half Award: Shelby Miller, RHP – St. Louis Cardinals
- A certain outfielder looms large out in Los Angeles, but for now the award goes to Miller. He has been with the Cards since Opening Day, and has pitched phenomenal thus far. Could be in for a meteoric rise next season, similar to Matt Harvey this year.
Signature Play of the First Half: Ben Revere, CF – Philadelphia Phillies
*Click to play* —> Ben Revere channels his inner Superman for an amazing grab